Double-hung windows offer a variety of benefits and are the most popular option for today's homes.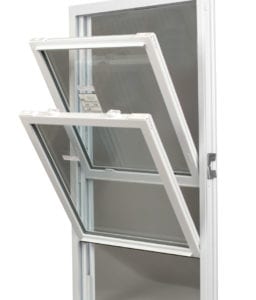 When you are upgrading one or more windows at your Raleigh, North Carolina home, one of the terms you will need to become familiar with is double-hung windows. If you were to take the term literally, you might think it means we hang them twice, but a double-hung window is actually a window with movable panels on both the top and bottom. With a single-hung window, the top sash is stationary and you can only raise the bottom panel.
At Wendell Siding, we are proud to serve Raleigh, North Carolina with quality replacement windows that add value, beauty, and functionality to your home. We are always happy to explain every facet of window selection so you can make an informed decision about what will best serve your needs.
There are several benefits of double-hung windows to consider. First of all, if you go with double-hung windows with a tilt-in design, both the top and bottom sash can be easily cleaned while safely indoors. This is a huge benefit for upper-story windows, which would require the use of a ladder to clean the outside of the window. You can get this feature with single-hung windows, but only the bottom sash will tilt into the room.
Another benefit is that you have the flexibility to open either the top or the bottom. If you have pets or children, being able to open the window at the top provides a level of security while still enjoying airflow into the room. Although double-hung windows are more costly than single-hung windows, the protection of those you love makes the investment into double-hung windows worthwhile. It is also easier to deal with a broken window, as you can replace either sash rather than having to call a glass repair company out to replace a pane in a stationary upper sash.
If you would like to know more about double-hung windows for your home, don't hesitate to give us a call. We will be happy to share additional information so you can make an informed decision.
---
At Wendell Siding, we install double-hung windows in The Triangle area of North Carolina, including Raleigh, Wilmington, and the Crystal Coast (Emerald Isle, Atlantic Beach, and Indian Beach).