No Appointment, No Hassle, Free Roof Estimate!
Here at Wendell Siding, we've performed quality roof replacements for our clients since the 1980s. If your roof is nearing the need for replacement, submit your address through our contact form. We use a unique satellite program that can measure the square footage of your home and send you a quote in less than 24 hours!
We Can Get a Quote to You Within 24 Hours!
After you get your roofing quote, here's why you should let us do the replacement:
We only focus on replacements, instead of scrambling to do repairs.
No need to book an appointment – we work around your schedule!
Our quoting process is quick, accurate, and hassle-free for you!
What are you waiting for? Submit your address, so we can give you a roofing replacement quote!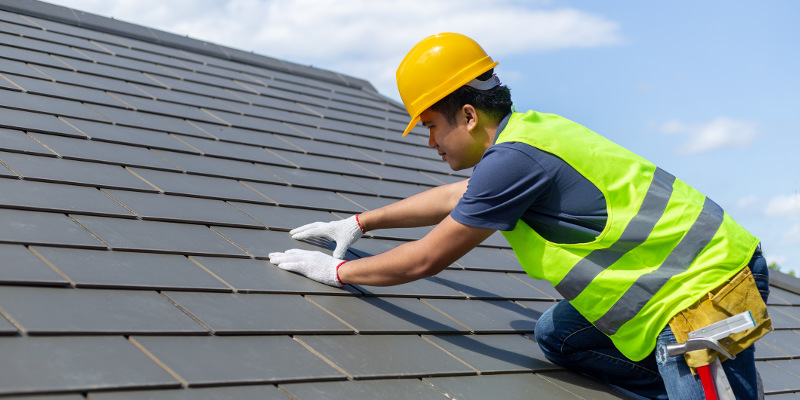 Brands: Certainteed, GAF
---
We focus on roofing replacement so you are assured the personal attention you deserve.
Here at Wendell Siding, we bring the same dedication to quality to our roofing replacements as we have our siding and other exterior home improvements since the early 1980s. As a family-owned and operated company, we live here and want our community to have a roofing company they can turn to for honesty, integrity, unrivaled service, and quality results.
One of the things we do differently than other roofing companies is focus on replacements, rather than have our crews scrambling all over town taking care of repairs. We will, of course, handle any warranty repairs on the roofing we install. We believe this policy enables us to give you the personal attention you deserve.
Another benefit is that we give you two options for getting a quote. You can call us to schedule an appointment with one of our roofing project consultants and then have a no-obligation project estimate mailed or emailed to you within 48 hours. Your other option is to call us to request we provide our no-appointment roofing quote using our state-of-the-art software application. This process is done right from our office. This is an ideal solution if you have a hectic schedule or need a quote on a property here in the Raleigh, North Carolina area that you own as an investment, but you live outside the area.
Whichever way you go, you will never be hassled for a decision, and we'll continue to be available to answer questions you may have. Once you have all the answers you need and have chosen to accept our proposal, we get to work on your roofing replacement. No deposit is needed prior to the work. We do not collect payment until you are completely satisfied. We back our workmanship with a lifetime labor warranty, and you also have the warranty on the materials you have chosen for your roofing project.
If you have any questions or are ready to schedule a standard or no-appointment roofing estimate, don't hesitate to contact us.
[adv-quote]
---
At Wendell Siding, we offer roofing services in The Triangle area of North Carolina, including Raleigh, Wilmington, and the Crystal Coast (Emerald Isle, Atlantic Beach, and Indian Beach).
Similar Services We Offer: