We can replace the soffit on your home to protect your home from damage.
The main function of the roof on your home is to provide protection for your home. It protects your home from the weather like wind, rain, snow, and even extreme heat. It also keeps your home dry and helps keep bugs and rodents outside where they belong. Most people have their roof checked on a regular basis to see if it is free from leaks, soft spots, or to see if shingles are missing. What most people overlook is the soffit on their homes, which is an important part of the roof. At Wendell Siding we know how important the soffit is which is why we can help you replace the soffit on your home if it is no longer protecting your home the way it should.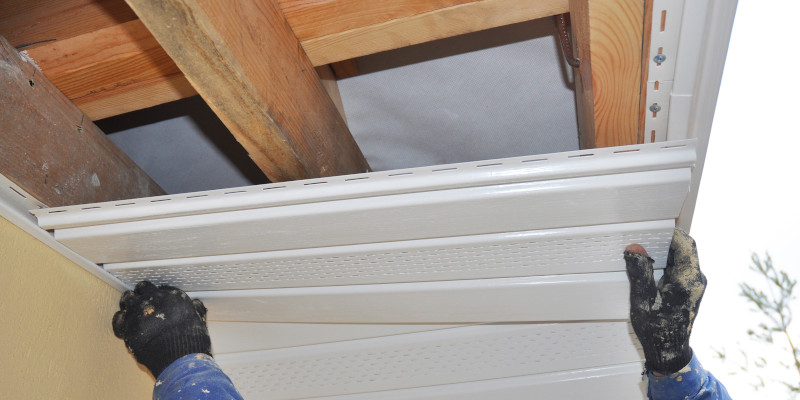 The soffit on your home is not visible unless you are standing right under it. The soffit is the area under the overhang of your roof. Many people rarely think about this area, but if it is damaged, it can cause a lot of problems. Damaged soffit can be bad for the ventilation of your home, especially the attic. It can cause moisture to build up in the attic and can weaken the structure or cause mold problems. Damaged soffit is also the perfect place for pests like bees, wasps, rodents, or even bats to enter your home. Replacing the soffit on your home is a good way to protect your home and keep it in good condition.
If you are considering replacing the soffit on your Raleigh, North Carolina home, contact us today at Wendell Siding. We will send a project consultant out to your home to give you a no obligation estimate. We will work with you every step of the way, and we believe strongly in not pressuring customers to agree to anything they are not comfortable with. Our professional installers do quality work and can have the job done in no time. We do not expect payment until the job is done, and you are satisfied with our work.
---
At Wendell Siding, we install soffit in The Triangle area of North Carolina, including Raleigh, Wilmington, and the Crystal Coast (Emerald Isle, Atlantic Beach, and Indian Beach).