We provide quality gutter installation for your home.
The gutters on your home serve an important purpose. They provide protection for your home, especially from the rain. Gutters provide a path for rainwater to drain off your roof into a designated location that will not cause any damage. Gutters help protect your roof from water damage, and they also provide clean lines for your roof which makes your home look neat and tidy from the outside. You most likely will not even notice the gutters on your home until there is a problem. Gutters that are not hooked up properly, that are sagging, or are even missing in pieces can cause a lot of damage to your home. If you are in need or gutters or your current gutters are not performing as they should, you should call us at Wendell Siding to schedule an appointment to discuss gutter installation or replacement on your Raleigh, North Carolina home.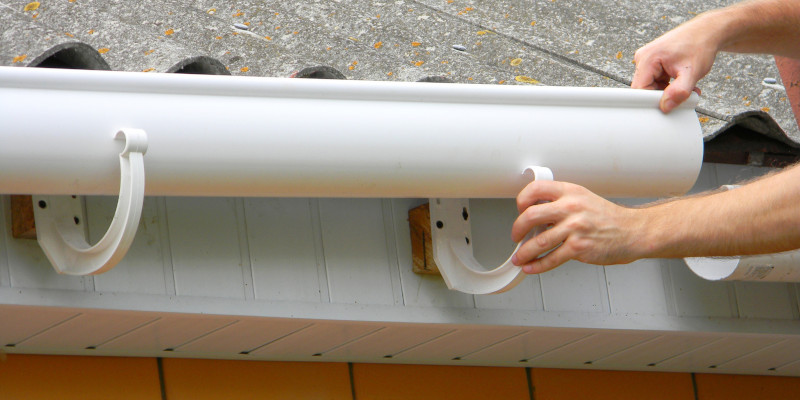 At Wendell Siding, we know how important gutter installation is, which is why we do a quality job for prices that are fair and affordable. When the gutters on your home are damaged, it can cause many problems, including water leaks, mold problems, damage to your roof and the sides of your home, and much more. This is why it is so important to have the gutters replaced before they lead to more costly problems. We can handle everything from taking down and removing the old gutters to installing beautiful new gutters that will provide protection to your home.
Call us today at Wendell Siding to see if new gutter installation is right for you. We will send a project consultant to your home to go over everything with you and advise you on your options. We will have a job proposal to you within 48 hours, so you can make the best decision for you. If you opt to move ahead, we will schedule installation at a time that is convenient for you. Our professional installers do quality work and will do a great job for you. We will make sure you are happy with your new gutters and the protection they provide for your home.
---
At Wendell Siding, we offer gutter installation services in The Triangle area of North Carolina, including Raleigh, Wilmington, and the Crystal Coast (Emerald Isle, Atlantic Beach, and Indian Beach).